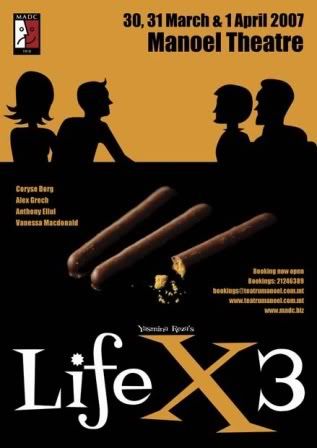 Life x 3
The Iranian-born French playwright Yasmina Reza has become something of a byword for intelligent comedies. Her latest and so far most successful play 'Life x 3' (she is also the author of the critically-acclaimed 'Art' which was held in Malta a few years ago) will be the
MADC's
next production at
The Manoel Theatre
on the
30, 31st March and 1st April
.
Describing what happens in
'Life x 3'
is not terribly easy. This is a play about anxiety, pecking orders, hosiery, prestige, self-doubt and sex. But above all it is one of the brightest, most sanguine pieces of writing for the stage in quite a long time.
Four very divergent characters make up the play; Henri and Sonia are a 30-something professional couple with a spoilt brat of a six-year old son Arnaud. They invite Henri¹s research director Hubert Finidori and his wife Ines to dinner at their Parisian apartment. But when the Finidoris turn up, Henri and Sonia realise that they have miscalculated the days, and they are totally unprepared to host a dinner party. The playwright then allows the audience, to see three versions of what ensues.
It¹s all great fun - unless it's ever happened to you - and it will make for one hell of an evening in the theatre.
For
'Life x 3'
the
MADC
have assembled a very strong cast. Henri will be played by
Alex Grech
, Sonia by
Coryse Borg
, Hubert by
Anthony Ellul
and Ines by
Vanessa Macdonald
. The play is directed by Jon Rosser.
Tickets for 'Life x 3' may be purchased from the Manoel Theatre's Booking Office in Valletta, tel. no. 21 246389, fax no. 21 237340 and
bookings@teatrumanoel.com
and online booking from website
www.teatrumanoel.com.mt
. More information from website
www.madc.biz
.