This is it, the Birthday entry… aka How I Lost My Voice!
I spent Friday answering sms's of birthday wishes in as many variations of thank you that I could muster, and deciding upon who deserved kisses or not. It was also touch and go regarding my GBW, which had been meticulously planned for a while. In fact we aborted those plans and I made others in the space of 30 minutes! Impressive I know ;)
So that evening instead of heading to Gozo and spending half the evening in a snake formation of vehicles, we went for dinner at Peppino's, which was divine. We were a group of 6 girls on a noisy round table. Yours truly started with a mixed salad, then we all had steak which I ordered as
raw
instead of
rare
. I forget my vocabulary in restaurants, and then we had Marie cake for dessert which we decorated with sparklers that I provided for my own birthday! I'm a good organiser so I have to do my own too!
Presents :)I got 2 dvds –
Ice Age
and
Love Actually
, and a top from Mexx. My friends know me well. And a fantastic card which said
Blonde and Bubbly
on it and then had a picture of a champagne bottle, and below that were the words
Hope your cork gets popped on your birthday
!!! Hilarious! And in return I gave everyone a tag which had a Little Miss picture on it, and I tried to suit them to the character. Nobody got Little Miss Shy or Little Miss Neat!!
This was mine: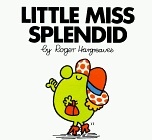 On the back:
After dinner we went to Gigi's and started drinking and I got my first shooter glass of the evening for my collection. Then we moved on to Paceville and Coconut where I got my second glass. Woo hoo! Finally we went to Styx where we stayed clubbing. I distinctly remember the bathrooms there… I don't know why! And No I didn't puke!!! We left at about 5:00 I think and went to get hotdogs from Sunrise but they were closed! So we went back to Paceville, and got pizza instead which I dropped on the floor and still ate! At that time of the morning with more vodka in your bloodstream than blood you don't care! We then gave a lift
(I wasn't driving)
to a friend who's car was in Balluta, and whilst we were there I got the bright idea of renting a dvd. By this time it's about 6 a.m.! So we rented
The Exorcism of Emily Rose
, and went to my friend's house where I was spending the night. Collapsed onto the bed, and woke up at 2 p.m.! Full 8 hours sleep!!
Woke up without a hangover (woo hoo) and had breakfast, and then we settled down to watch the film. At 6 p.m. another friend came over as we decided to go up to Gozo for the night. By 7 p.m. we were stuffing our faces with burgers and fries at McDonald's in Bugibba, where we met up with another 2 people, and on the way to Cirkewwa we stuffed our faces with chocolate! We had the extremely pleasant shock in Cirkewwa of being able to drive straight onto the boat as there was
no queue
whatsoever!
Gozo: First we went to the house that our friend's had rented and started drinking there with a group of female footballers, a group of male inmates and Norman Lowell! Then we went to Nadur and found parking very close to the church!! And from that point on it was a cacophony of costumes, alcohol and rain! It was dirty, smelly and messy – just as Nadur carnival should be. It was really great. Even the public peeing in an alley adds to the experience! We tried going to Ku Club but it was already 3:15 a.m. by the time we got in and we didn't feel like paying to then be kicked out by 4:00 a.m. So we decided to head to Mgarr and queue for the boat, but Lady Luck was with us once again, and we found a boat there and managed to get on it. The crew had to bang on the window to wake us up when we arrived in Malta cause we were dead to the world! I finally got home at 5:00 a.m. and slept till 2:00 p.m. – it was Sunday by this time!
So all in all a totally great birthday!! Only 363 days till the next :)
(I will try and post a sample of my voice... or lack of it!)